"After Month's Of Research, I've Finally Found An Air Treatment System That I'm Willing To Back With My 100% Lifetime Money-Back Guarantee!"
Sunday, 8:49 PM
Dear Friend,
If your one of my clients who's been looking for a quality air treatment system, and have been patiently waiting for me to finish my research, your wait is over.
So many of you have asked me for an air treatment system recommendation, and NOW I can help you.
If you've been on any of my teleseminars you already know that I've been working on this project for awhile, and I'm really excited to tell you about the air treatment system I've found for you.
This machine has been tested and certified in the field by the California Environmental Protection Agency (CAL-EPA). It passed their tests with flying colors. They have certified that this "Air Purifier was tested under field conditions and was proven to effectively destroy airborne Micro Organisms, Toxic Bacteria, Mold Spores and Fungal Growth."
I know that sounds almost to good to be true, but…
If you've been a client of mine for any period of time, or participated in any of my free Mold Teleseminar Courses, you know I only tell it like it is. I don't pull any punches, I don't sugarcoat anything and I give you the real No B.S . information, even if I ruffle a few feathers in the process.
But even at that, I don't expect you to take my word about this EPA Certificate, so I'm going to show it to you right now.
Here it is!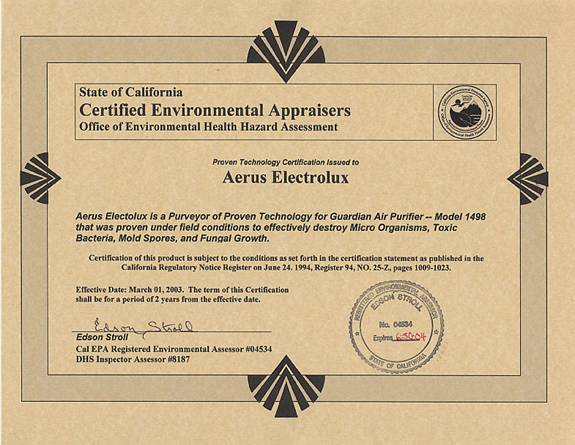 In addition to this certificate, the President of the Society of Allergists and Immunologists of California uses this air purifier in his waiting room and recommends it to his patients. He is a professor of the subject at UCLA and has written over 300 articles on the subject in professional journals. I'm sure you'd agree that this alone is a pretty strong indication that this machine works very well.
With that said, let me tell you why I think this unit is so great, why I'm willing to back it with my Lifetime 100% Money-Back Guarantee and the benefits you'll get with this
"Amazing Patented Technology That Uses Ultra Violet Light
And A Super-HEPA Filter"
• The HEPA Filter is effective in capturing 99.97% of the 0.1 Micron size particles from the air (that's 300% smaller than 90% of the other HEPA Filters on the market) which means that in addition to filtering mold spores, it also gets rid of airborne dust and other allergens
• This machine has a powerful 4-speed motor, yet it's as quiet as your PC
• Creates up to 5 changes of air per hour for a 375 square foot room, which keeps your breathing space cleaner than any other unit
• Low energy consumption means it only costs pennies a day to operate
• Cleans your home's air of microbes, mold, mildew, bacteria, organic odors, many volatile organic compounds (VOC's) and most of the leading allergy and asthma causing triggers
• The unit doesn't create any obnoxious smells or gases
• The unit does NOT create ozone, which as you know is very controversial
"How To Determine If This System Right For You?"
If you're currently dealing with a mold situation, or have just finished getting rid of the mold in your home, and want to help prevent future mold growth, this system is a wise investment.
If you have allergies, you'll find that this system will offer you relief.
As you know, I continue to preach over and over, to minimize mold in your home and keep your breathing space a healthy as possible, there are two things that MUST be done.
1. Use a quality HEPA vacuum
2. Use a quality HEPA air treatment system
If you're suffering from mold related illnesses or ongoing allergies, yet are not doing your part to minimize your own health risk, you have no one to blame for your misery.
I get countless emails, and talk to people on my free teleseminars who are in this exact situation, yet when I ask them if they're using a quality HEPA vacuum and air treatment system, their answer is always No!
If this is YOU, then stop reading this letter right now.
Just close out your browser window and walk away from your computer, because I can't help you.
But if you can see yourself feeling better, and realize you need to take an active role in improving your circumstances, then I'm willing to work with you.
Like anything really good, they cost more, but I've worked out a special factory direct price with the manufacturer, and they will ship it directly to you from their factory for $1,099.99 (plus sales tax and shipping).
I look forward to helping you.
Sincerely,



Kevin Thompson
The Nation's Mold Solutions Expert
P.S. And remember, you're protected by my 100% Lifetime Money-Back Guarantee as well.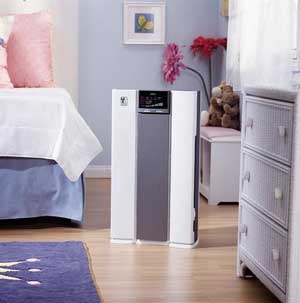 ---
Pay Pal Users Get Your Hepa Air Purifier System Here
Don't Want To Order Online?
Use this printable Secure Mail/Fax/Phone Order Form
24-hour Secure Phone: 360-435-4508
24-Hour Secure FAX: 360-435-4561
Send check or money order to:
Maximum Response Marketing, Inc.
20428 65th Dr. NE
Arlington, WA 98223